It's the end of the half-term (for some anyway – it's 10th June at the time of writing) and so it's time for a review of how the U12s and U13s have done.
U13s: Cheshire league (U13 Zone 3)
Played 7, won 3, lost 3, conceded 1, position 5th out of 8
The Cheshire league has now finished for the U13s. Heaton Mersey won half of the matches they played, and true to form this was against the three teams finishing beneath them in the league. Without a concession against NEC, they might have finished 4th. Still, a solid performance and they move on now to the Plate league.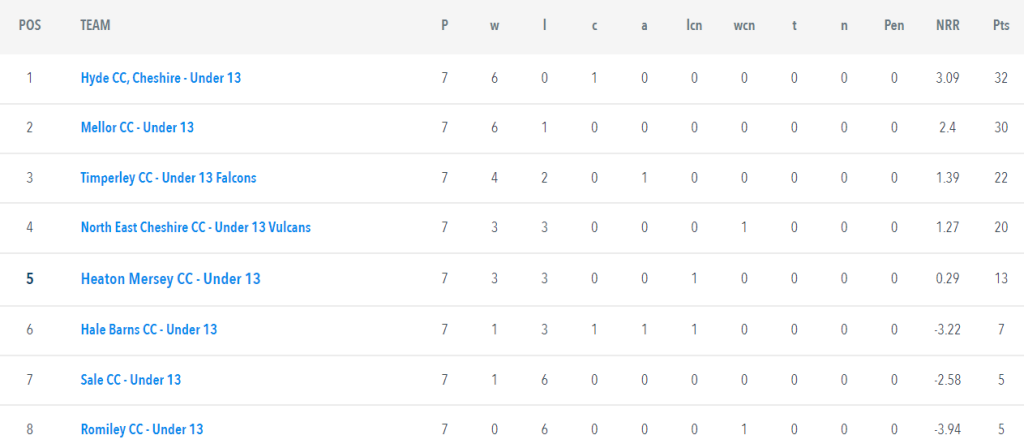 U13s: South Manchester league (U13 Zone 3)
Played 5, won 1, lost 3, opposition conceded 1, position 4th out of 6
It was a tough experience for the U13s in the South Manchester league, managing 1 win in the 4 matches played, facing some quality opposition. They have now moved into Group 3 of the South Manchester league and have started well, winning their only match played so far.

U12s & U13s: High Peak league (U13 North Division)
U12s: Played 5, won 3, lost 1, abandoned 1, position 6th out of 12 (but should be 2nd)
U13s: Played 6, won 3, lost 3, position 5th out of 12 (but should be 6th)
Both Heaton Mersey sides, one U12s and one U13s, are poised well in the High Peak league at the halfway stage. The U12s have impressed in particular, given they have only lost one match. They are currently lying in 6th according to the official table but they should be in 2nd place, but the concession and abandonment are currently giving them no points. There is definitely all to play for in the second half of the season, not least for Heaton Mersey bragging rights!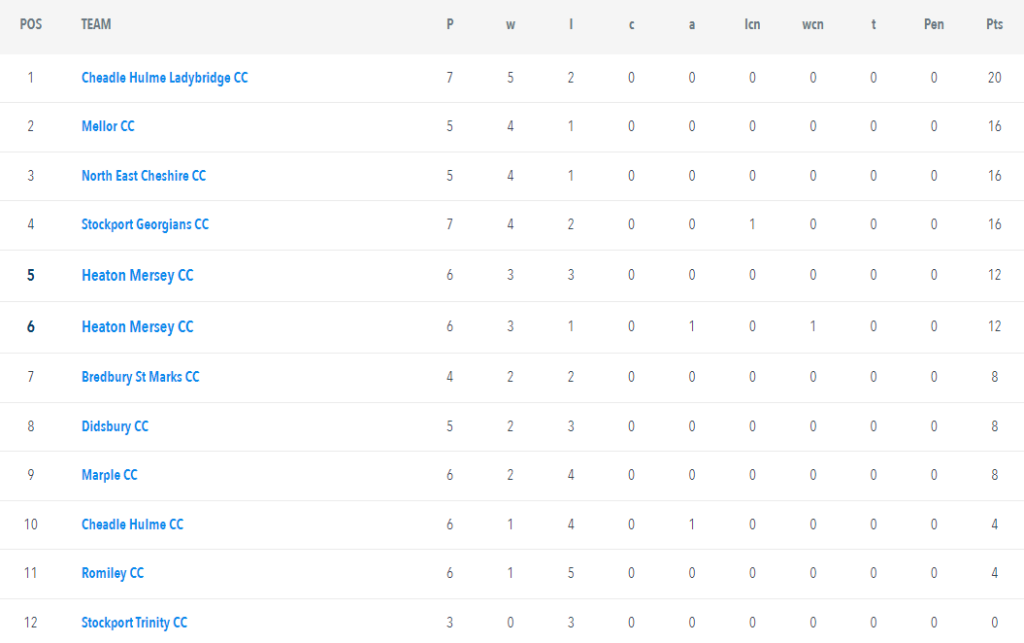 U13s: Mersey Cup
It was a heavily rain-affected tournament in Liverpool, with only one match completed by Heaton Mersey (having abandoned another game halfway through). Unfortunately, they lost to a stronger Liverpool side but frankly it was a miracle they got any cricket in as it was a wet day.
U13s: Cheshire Vitality T20 U13 Club Cup
The U13s, like many teams, had a bye for the first round and beat Sale in the second round, but came up against tough opponents in Macclesfield in the third round and were knocked out. Macclesfield went on to win their next match, the quarter-final, and are now in the semi-final so no disgrace there.