Monday 17th July: Heaton Mersey U10 194 (50/14 off 16) lost to Bramhall U11 276 (108/8 off 16) by 82 runs – High Peak summer competition (Scorecard)
It was a chastening defeat for Heaton Mersey yesterday against a high-quality Bramhall team. After Joseph won the toss and decided to bat, we immediately knew we were in for a tough night when Bramhall brought on Jeff Thompson and Dennis Lillee to open the bowling. It was fast and aggressive. James and Ollie defended bravely, doing well to lose only two wickets in their four overs, but runs were virtually impossible to come by.
This trend continued throughout the innings as Lillee and Thompson were replaced by Wasim and Waqar, then Ambrose and Walsh. Our batters put up a gallant fight, but the wickets continued to fall. Bramhall saved their quickest pair until last, but as they steamed in our final two (Tom R and Joseph) stood tall. They played some lovely shots, including a couple of boundaries, and the running between the wickets was superb. But the runs they put on were negated by the relentless rattle of bails being separated from stumps. Mersey finished on 194.
With a net score of minus six on the board, we always knew it would be a losing battle, but that didn't stop our boys (and girl) fielding with spirit and positivity, which was great to see. There was some skilled bowling on show (Isaac G's spell was especially impressive) and some good catches taken too (James and Isaac E). We took eight wickets in all, which was no mean feat against such a good side, but Bramhall cruised to victory with a score of 276.
I'll finish with a shoutout for Joseph. On a really difficult night, he led by example with bat and ball. A real captain's performance.
Monday 17th July: Marple U11 236 (72/9) lost to Heaton Mersey U10 257 (77/5 off 16) by 21 runs – High Peak play-off semi-final (Scorecard)
It was a bruising encounter in the semi-final last night at a cold and wet Marple. As expected, Marple were playing their Year 6 team so a tough game was always expected with them winning their league. Sam made the sensible decision to bat first on a green pitch. Opening up, Tom S and Harrison put on a very solid partnership with excellent running and no wickets. Stan and Adam then upped the run rate slightly with a few boundaries on a slow pitch and kept their wickets intact.
At this point, the pitch really started to break up after all the rain and it was about survival while trying to up the run rate. Sam, Zayaan and Felix all hit fours and Arjo defended his wicket and picked up singles where possible. 257 seemed a small score but out in the middle I expected it would take some getting.
In the field, Zayaan, Tom and Arjo took superb catches. Stan and Harrison got run-outs as Marple valiantly fought hard to reach our total. Arjo (1 for 4), Sam (2 for 14), Tom (1 for 7), Felix (1 for 6), Zayaan (1 for 15) and Adam (1 for 11) all took wickets. Stan finished the match bowling on one leg with no run-up after saving a rasping drive off his own bowling with his shin. Zayaan also took a blow which affected his bowling arm. The ground fielding was excellent. Harrison kept wicket the whole innings and really set the tone with as near a faultless display as you'll at this age. So, the team have reached the final for the second year in a row. An unbelievable achievement.
The victorious team: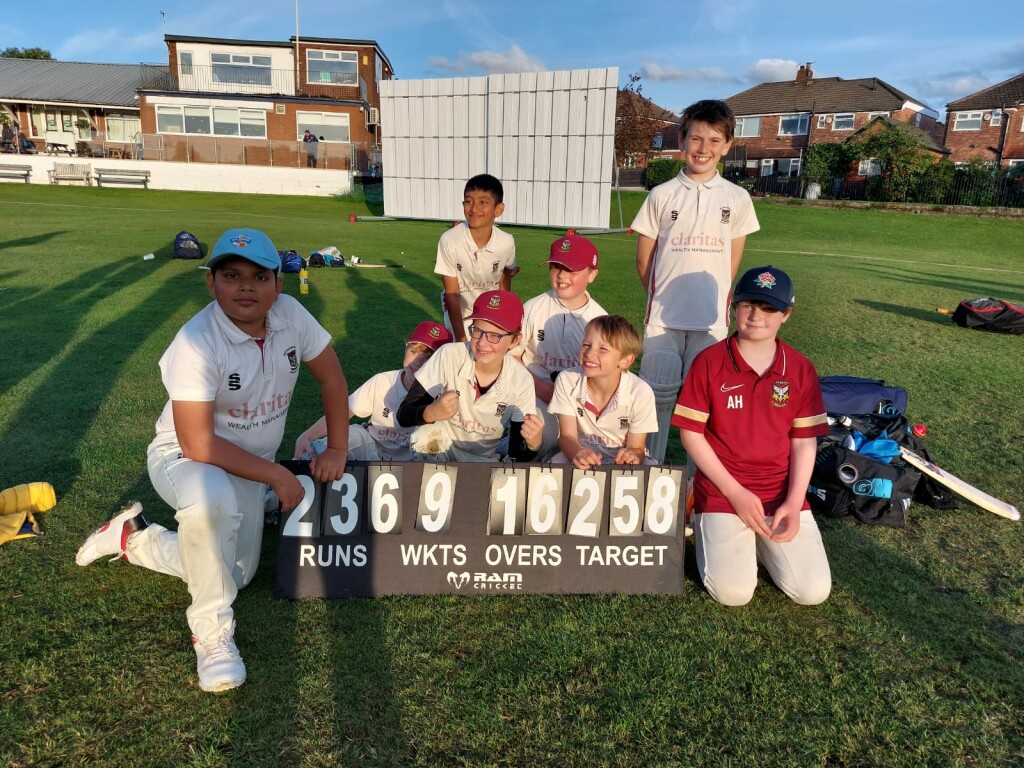 Thursday 20th July: Heaton Mersey U9 287 (111/8) lost to Bollington U9 327 (148/7) by 40 runs – High Peak summer competition (Scorecard)
Now let me begin… so, the result was 327 to Bollington and 287 to us. But I have to say I am buzzing!! What a team we have!! Bollington are top of the Macclesfield division in the High Peak league and they brought their first team down today. Their batting was immense! Loads of 4s a six & millions of singles – they were very experienced & could spot the gaps & place the ball in them. The runs were well deserved!
However, what a comeback we put on!! 287 runs!! That's one of the highest scores we have had this season and against any other team we would have easily won. There were multiple fours from Alden, Caoimhin, Huzaifah & Leo, I'm so excited writing this that there were probably more – I need to check Play Cricket!! Singles were chased frequently by Matty, Miles, Ollie & Gillespie. Their bowlers were actually not on par with their batting & our boys hardly had anything to hit - imagine the score if they did?
Our bowling was actually too accurate and they made the most of it & we have lots to work on, but by goodness the teamwork and the catches!! Wow! Multiple catches from Caoimhin! A wicket bowled and a catch from Alden, whilst Olly's catch and roll was a feast for the eyes!! Wickets also bowled for Gillespie and Leo, and Matthew stopped a few boundaries.
Honestly, those kids did some amazing work and displayed some skills that I have not seen them do at training or in matches before. I couldn't stop telling them how amazing they were! That score against that team I mean… come on! I couldn't be prouder!! If I missed any fours or wickets then I apologise. I am just too excited and it will all be up on the website soon so you can see exactly how they did! But gosh, those kids tonight!!
Friday 21st July: Heaton Mersey U9 268 (95/9) beat Prestbury U9 257 (93/12) by 11 runs – High Peak play-off semi-final (Scorecard)
The atmosphere was crackling at Heaton Mersey Vale for this much-anticipated semi-final. Heaton Mersey had earned the right to hold the fixture by finishing top of Zone 1. Prestbury won the toss and put the hosts in to bat.
The opening pair of Emmet and Isaac made a steady start taking 4, 6 and 3 off the first 3 overs. Despite some well-timed shots, the pair were unable to find the boundary rope. It was only in the last 2 balls of the 4th over that the innings leapt into life. Emmet cracked 2 magnificent boundaries either side of the wicket to take the pair's tally to 25 runs.
Harvey and George were up next to face some hostile bowling from Prestbury. Harvey lost his wicket in the 5th over to a spectacular catch in the deep, when it looked certain the ball would go for a boundary. There were plenty of singles and a 2 each to keep the scoreboard ticking along. However, they were pegged back in the 8th over with 2 deserved wickets for Prestbury, leaving Mersey on 232.
Up stepped Harley and Will with a clear plan to run for everything, and run they did, to great effect. There were a few heart-in-the-mouth moments as the pair pinched bye after bye and ran for regular singles. In their final over Harley, was finally run out pursuing yet another bye. Will responded superbly with a four off the very next ball. Together they moved the score along to 257. The plan had worked.
Thomas and Sam were the final batting pair and were to face Prestbury's premium bowlers on the day. Despite a magnificent 6 on the leg side from Thomas, Mersey lost 5 wickets to some accurate bowling from Prestbury. The boys battled superbly to take the final score on to 268. A defendable total if Mersey bowled to their potential.
In reply, Prestbury started strongly, scoring 11 off the first over. Mersey then swung the momentum back their way with a wicket and only 2 runs from the second over from Emmet, and two wickets in two balls for Harvey in the third over, for just one run. Prestbury were on 213 after the first pair.
The second Prestbury pair then kept them in touch as you could feel the tension building, with both sets of parents getting behind their respective teams to create an atmosphere deserving of a semi-final. There were three boundaries and a wicket for Will to leave the visitors on 233 at the half way stage.
Momentum then swung massively towards Prestbury as their third pair produced the batting performance of the match. Five boundaries took them to within touching distance of victory, despite two wickets for Isaac. With one ball left, Prestbury were on 263 and needed just 6 runs from the final 4.1 overs. Up stepped George with the ball of the day to clip the off stump and peg Prestbury back to 260. Could this be yet another momentum shift?
The atmosphere was now at fever pitch as the final pair approached the crease. Mersey knew they had to take wickets and the tactic was clear – bowl at the stumps and make them play every ball – if you miss, we hit. Harley was first to bowl … dot…dot….dot…then wicket... wicket… dot! A magnificent over under immense pressure left the visitors needing 15 from 3 overs.
The next over saw Will open with yet another wicket and be unlucky not to take more. Now it was 17 required from 2 and Mersey's tails were up. Thomas bowled the penultimate over which started dot... 2…1... Prestbury were rallying. Thomas steeled himself and finished wicket… dot … wicket. Mersey had bowled themselves back into the game. It was only left for Sam to hold his nerve and bowl out the final over with Prestbury finishing on 257. An 11-run win and a place in the final was the prize.
This was undoubtedly the best game of the season I have been involved with. Credit has to go to Prestbury, who pushed us all the way and showed a touch of class in defeat, with players, coach and parents wishing us the best of luck for the final.
A truly stunning performance from Mersey. They knew they had to bowl well and did that and then some, scoring fewer runs but taking 5 more wickets and only conceding 3 wides in 16 overs. These are the fine details, which often prove telling in close games such as this. Well done to everyone involved. Bring on the final!
Friday 21st July: Wythenshawe U11 vs Heaton Mersey U11 – South Manchester summer cup (Scorecard)
The match was abandoned with two points each.
Picture: the victorious U9s team in the semi-final against Prestbury