Tuesday 4th July: Heaton Mersey U9 258 (88/10 off 16) lost to Hyde U9 298 (125/9 off 16) – High Peak league (Scorecard)
Mersey entered this fixture in buoyant mood after a win earlier this season in the reverse fixture. Hyde batted first and proved a different beast to that match earlier in the campaign. The ball pinged off the plastic bats to all parts of the ground, with the Hyde batters piercing the Mersey field on a regular basis. The first pair put on 28 and the second pair 38, as it looked like Hyde were going to comfortably exceed a hundred. However, Mersey steeled themselves as the third pair approached the wicket and pegged back the hosts with some magnificent bowling.
Will and Sam both took wickets in tight overs; Harvey took two in two and a total of 3 wickets; and Emmet fell narrowly short of a maiden, conceding a single off his final delivery, for figures of 0-5. That left the total at 272 with the final pair to bat. Hyde responded and looked to have got themselves over the psychological 100 (or 300) mark until George took a wicket with the final ball of the innings. This left Mersey chasing 299 to win. Nine wickets in total had fallen including 2 for Miles and 1 for Max.
Mersey's reply started slowly but picked up in the fourth over with three majestic boundaries on the trot through the off side from the imperious Sam, the Bazball session at training the previous week paying early dividends. Harvey and Emmet then ran superbly and two boundaries from Emmet had Mersey on 243 after 8 overs and still in touch.
However, the ninth over was to prove pivotal. The diminutive Felix for Hyde had threatened with some serious pace in his first over and found the accuracy to go with it in his second. A triple wicket maiden put an end to any realistic hopes of Mersey taking the win. The team battled to a total of 258, to leave Hyde winners by a margin of 40 runs. On the day, they were just too good and played the best all-round cricket from a team I have seen this season. Well done, Hyde. Another game played in great spirit.
Tuesday 4th July: Heaton Mersey U10 282 (102/5 off 20) lost to Davenham U11 311 (139/7 off 20) – Cheshire league play-off semi-final (Scorecard)
A fantastic run for the U10 team in the U11 premier competition came to an end last night against an older and stronger team. The signs weren't great when star fast bowler Isaac Gray went down with a nasty injury in the warm-up. Luckily, Albert was quick to the rescue arriving approximately half way through their innings, meaning that we had to field a man down for a long spell.
However, strong bowling and fielding put us well on top at the halfway stage. Run-outs from Stan and Sam, and wickets for Sam (2), Stan and Arjo put us in firm control. Their best batters then came out in the next 2 pairs and were the strongest we've played against this season. Albert managed a wicket and Monty, Tom and Joseph did everything right but they were so strong. The fielding slipped a bit here as the pressure was turned up.
With 311 to chase and an excellent bowling attack, the boys had little chance. As always, though, they batted really well and dug in. Tom, Sam, Felix and Stan all got into double figures and hit several boundaries, including a six from Sam. Harrison rotated the strike expertly and all the boys protected their wicket against hostile pace bowling. We can have no regrets, though, as it was a great performance to end another superb Cheshire league season. That is back-to-back semi-final appearances in this competition, and there is still lots of cricket to look forward to.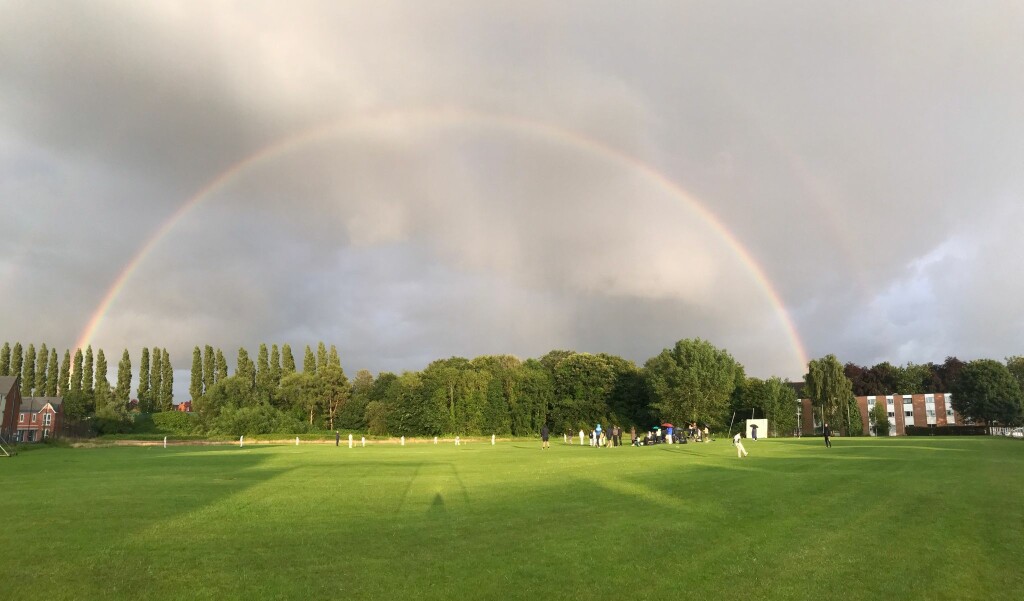 Friday 7th July: Heaton Mersey U9 vs Offerton U9 – opposition conceded – High Peak league (Scorecard)
Having had to rearrange this fixture as Offerton belatedly realised that they could not make it, we set up the pitch on a glorious Friday evening, the kids eager to play. Puzzlingly, there was no sign of any of the opposition, suggesting some kind of misunderstanding rather than everyone being stuck in traffic. Contact with the opposition confirmed this, as they were sat waiting at Offerton's ground. Email correspondence confirmed that Green Lane was the right venue and the League reviewed the evidence and gave us the win. It was a shame, though, as it would have been great to play the match on a Friday night in sunny conditions. We played some mini pairs instead but the boys soon drifted off.
Sunday 9thy July: Heaton Mersey U11 100/4 (15.1) beat Urmston 98/3 (20) by 6 wickets – South Manchester league (Scorecard)
It was a great win again for the U11s Academy team this morning. Mersey were outstanding in both fielding and bowling. The pick of the bowlers were Aidan, Sam and Felix. with really tight wicket-taking balls and going for minimal runs.
Chasing 99 to win, we got off to a steady start before losing Tom and Lukasz in quick succession. Then, quickfire runs from Sam and Felix allowed Harry with an impressive 21 not out to guide the team over the line with Lewis. All this was done with 5 overs to spare. Well done, boys. This win put the team top of the table.
Monday 10th July: Heaton Mersey U9s 265 (92/9 off 16) beat Stockport Georgians 262 (89/9 off 16) by 3 runs – High Peak league (Scorecard)
It was an amazingly tight game played at Heaton Mersey Village against the Georgians. We were a player short temporarily so bowled first because they were meant to top of the order (although we should have batted first!) – the opposition kindly lent us a fielder for the first couple of overs, though. Miles and Harvey opening the bowling and got us off to a tight start, Miles taking a wicket and Harvey conceding just four runs of his two overs. Gregory and Will, our speed demons, then took over. Gregory started with a maiden and rocket-arm Emmet secured a run out of Will's bowling (although that rocket arm did cost us some overthrows). One of their batsmen hit two great shots of full tosses, a six off Will and a four of Gregory, but they got their revenge, with Gregory getting one wicket and Will three in their final overs. That had them pegged to 221 at the halfway stage.
However, that brought together their strongest batting pair, as they hit 34 off Emmet and Joe. They did well to keep them to that given how hard they were hitting it, and Will nearly caught an absolute stunner, diving full length after running in from long off, but it just didn't quite stick. Finlay and Adam then finished with some solid bowling, taking three wickets between them and keeping the final score to 262. It could have been a bit lower without overthrows and a misfield, but it was a gettable target.
Finlay opened and played some fine defensive shots in the first over against some very straight bowling, but their two best bowlers then came on and took some wickets. Nevertheless, Finlay and Adam did some good running between the wickets to keep us in the game. Harvey and Miles came in and both hit a couple of great fours and got the scoreboard motoring, and they eventually got a net score of 23 off their four overs.
In came Gregory and Will to continue the scoring, despite losing wickets in consecutive balls. Four fours from Gregory and a lovely flicked shot from Will, plus some excellent running between the wickets, saw them put on 25, impressively taking 15 off the (possibly older – they are allowed to play down two years) girl who had bowled impressively in her first over.
That left us needing 18 off the last four overs (although the message was that we needed 17), and Emmet got us off to a great start, hitting it for four off his second ball, but unfortunately he was out on the last ball of the over to keep it well-balanced. However, they carried on accumulating well to leave them needing 5 off the last over.
The Georgians, as seems to be their style ("the Georgian Way", perhaps. Amusingly, two of their players were called George, which Ian as scorer separately identified with Roman numerals), had one of their players bowling his third for the penultimate over, and brought back their fastest bowler for his third (it is not against the rules but everyone bowling two overs is encouraged and so it is against the spirit). When he took a wicket off and conceded no runs off his first four balls, leaving 8 needed off two overs, it seemed an impossible task.
But then he bowled a beamer which Joe someone managed to get a touch on to send it flying past the keeper for four. That meant we needed 3 off two balls. Joe ran hard to get Emmet on strike for the last ball with two needed – there was a close run-out chance as the ball pinged off the top of the stumps, dislodging the bails, but Emmet had just made it home. As I replaced the bails, I encouraged them to run hard on the last ball. Emmet did better than that, though, and square drove the ball for four through point, giving us a win by three runs. The two of them had put on 20 runs (net score) against some really good bowling.
More than that, the win guaranteed us getting through to the semi-final play-offs of the High Peak league (we didn't find out about the concession from Offerton until the day after this match). A really gutsy performance.
Tuesday 11th July: Heaton Mersey U8 vs Bredbury St Marks U9 abandoned – High Peak league (Scorecard)
This match was abandoned for a share of the points.
Friday 14th: Offerton U9 vs Heaton Mersey U8 cancelled – High Peak league (Scorecard)
This match was cancelled for a share of the points.
Pic: a victorious U11 Academy team