Thursday 17th August: Lindow U9 279 (112/11) lost to Heaton Mersey U9 264 (97/11) by 15 runs – High Peak summer competition (Scorecard)
It was a good competitive match tonight against Lindow, but unfortunately we were narrowly beaten, 264 vs 279. It was a great all-round team performance with wickets coming off every player's bowling. Batting was also good with a few sixes, some fours and lots of good running for singles. The opposition had one outstanding player who made the difference. He took 4 wickets and hit 3 sixes. Well done everyone, another great performance from the Mersey.
Sunday 20th August: Heaton Mersey U11 60/4 (12.1) beat Cheadle U11 58/9 (20.0) by 6 wickets – South Manchester cup (Scorecard)
Cheadle won the toss and elected to bat, but lost wickets at regular intervals, with all of the bowlers either taking at least one wicket or bowling tightly. They finished on 58/9, with only one batsman into double figures. Despite falling to 23/4, Seamus (22 not out) and Lucasz (11 not out) coolly guided Heaton Mersey to the target with almost 8 overs to spare. A comfortable win.
Sunday 3rd September: Heaton Mersey U10 273 (97/6 off 16) beat Cheadle U11 262 (98/9 off 16) by 11 runs – High Peak league play-off final (Scorecard)
It was a terrific end to the outdoor hardball season today. Everyone made superb contributions in all departments as the team won the U11 High Peak league play-off final. Tom S, Isaac, Zayaan and Harrison all batted beautifully. They played textbook shots, showing great timing and placement. A solid par score of 273 was reached.
Cheadle were dominated early on as Isaac and Harrison bowled breathtaking new ball spells. Tom S and Joseph got a wicket each too before Cheadle's big hitters came in, determined to make things close. Stan and Zayaan held their nerve and kept us just on top going into the final pair.
Against more great stroke play, Sam and Felix got the job done with two fantastic wickets for Felix. The fielding was outstanding, with Isaac's catch my play of the day. The ball was smashed at him and he took a sensational catch, turning the momentum of the game. A big mention for Sam who captained positively and proactively.
Another season and another major trophy. Well done everyone who has played in this competition this season and turned up to training and made sure the standard is high as the boys continue to push each other in our pursuit of excellence. I would just add how forgot to write how proud I am of all those fantastic cricketers. This squad is amazing.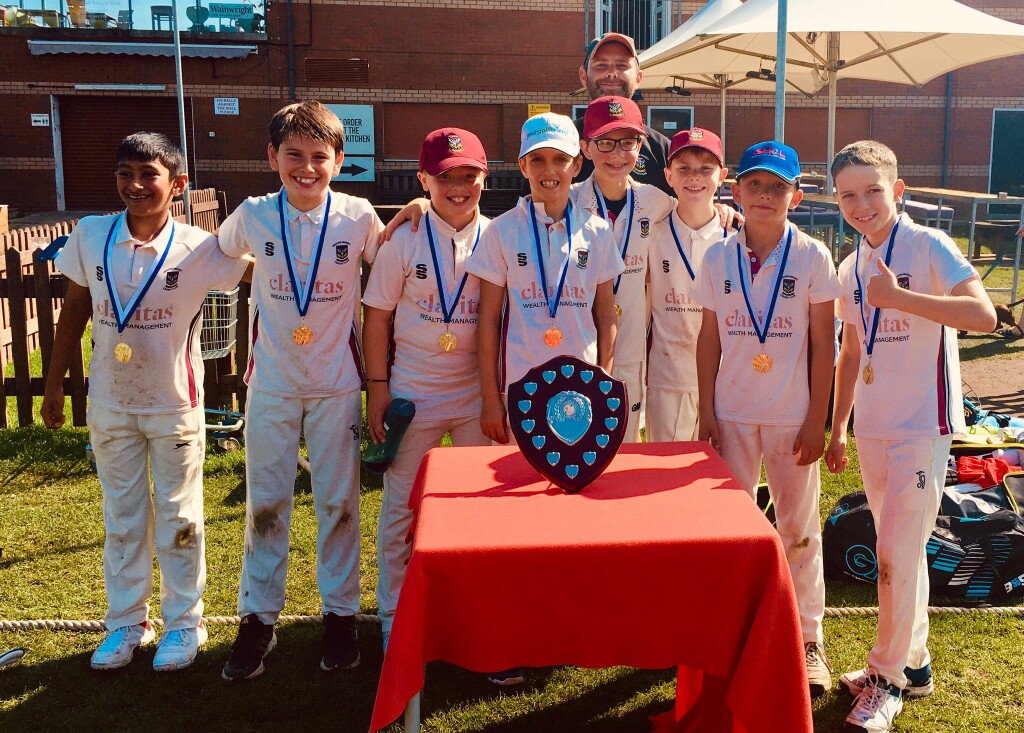 Sunday 10th September: Heaton Mersey U9 289 (110/7 off 16) beat Bollington U9 205 (50/15 off 16) by 84 runs – High Peak league play-off final (Scorecard)
There was a threat of rain in the air and the crackle of excitement as the teams and parents gathered at Green Lane for the Under 9s High Peak final. Mersey won the toss and elected to bowl.
Captain Will opened the bowling and set the tone for what was to be a spectacular bowling display, taking the first wicket with the 5th ball of the innings. The opening batting pair struggled to get the bowlers away but ran well between the wickets to pinch quick singles. Harvey also took a wicket in his first over to reduce Bollington to 207 after 4. A great start from Mersey.
Up stepped George to bowl the over of the season. A wicket with his first ball, followed by a remarkable hat trick, all clean bowled, to end the over. His pace, line and length were immaculate and ripped the heart out of the Bollington batting attack. Emmet, Isaac and Gregory then kept the pressure on, with one further wicket for the latter. 201 after 8.
Mersey sensed blood with wickets each from Will, Harley, Harvey (2) and Thomas to leave the bemused opponents reeling on 195 after 12. George then pitched in with 2 runouts in his second over, to reduce the opposition to 191. The final batting pair restored some pride in the last 3 overs to rally to 205 after 16. The Mersey attack was unplayable on the day, taking 15 wickets and conceding no boundaries. Bowling of the highest caliber.
Mersey's opening batter pair of Will and Harley started a little nervously. Their normally excellent calling and running were hesitant in the first 2 overs, showing some final nerves. Once they settled, they edged Mersey ahead, 208 after 4. With rain clouds looming, a few in the crowd were googling Duckworth Lewis (don't forget Stern)!
Up stepped Harvey and Thomas. The first over was tight, as again the batsmen took time to settle. In the second over, Harvey released the pressure and tension with a beautiful 4 piercing the field through the leg side. Thomas immediately chipped in with consecutive boundaries and the pair put the result beyond reasonable doubt. 240 after 8.
Bollington continued to battle hard and restricted George and Emmet to one boundary each. Some excellent running saw the third pair take the total to 258 after 12. The final pair were able to play their shots with freedom. Isaac chipped in with 3 boundaries and Gregory 4 to finish on 289.
A resounding and thoroughly deserved victory for Mersey. Everyone chipped in today and the squad were a pleasure to take throughout the season. All 28 players contributed to make the result possible. Many of those unfortunate enough not to make the team for the final were present to cheer on those that did, and join in the celebrations. True team spirit in evidence. Bollington played with heart and pride, so credit too to their players, coaches and parents. The support for both teams was unwavering.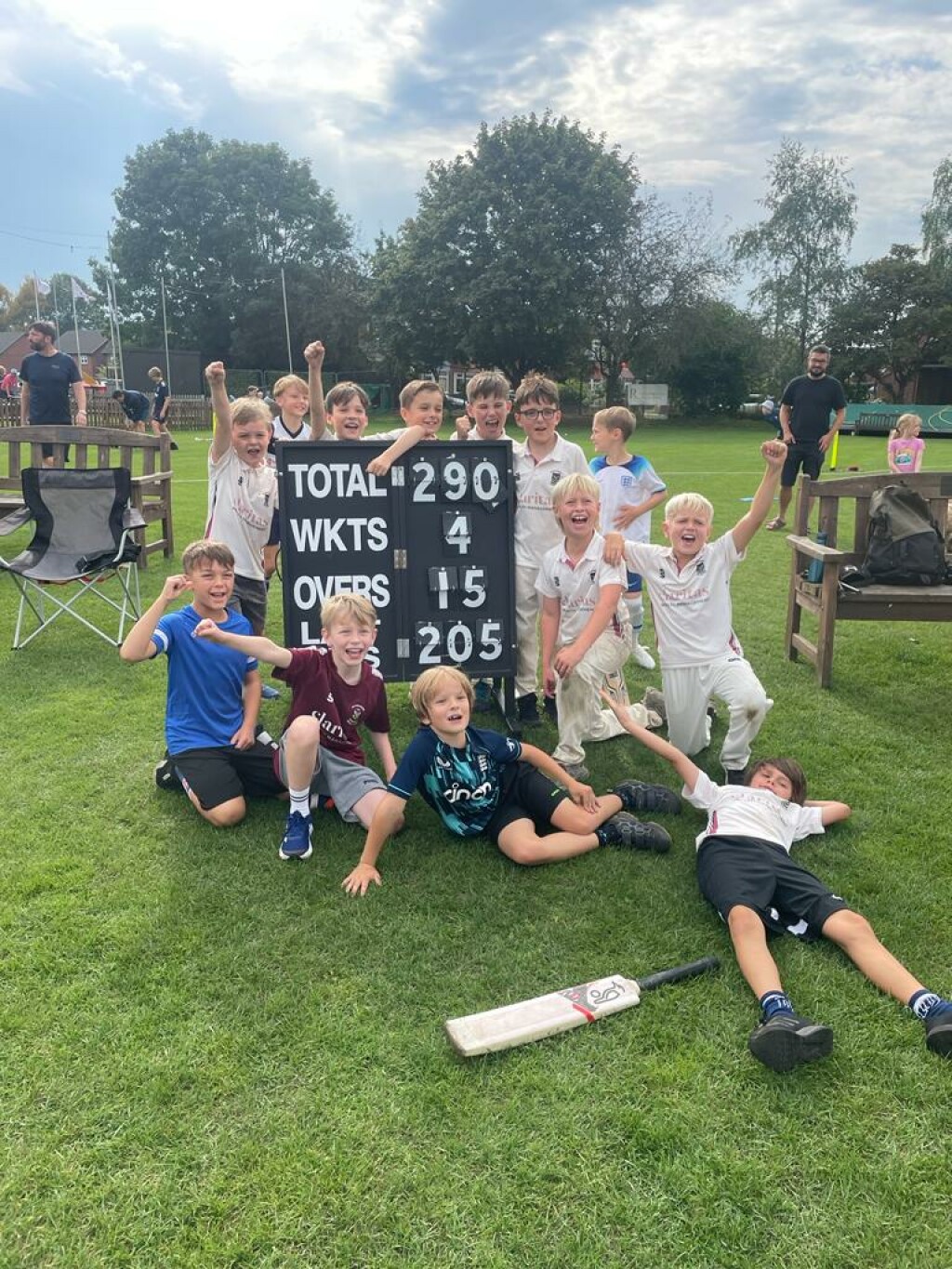 The victorious U9 team: